NOTE: The limited edition run has SOLD OUT. Check dealers for availability. Stay tuned for a new Mk II HEAD and matching Cabinet! - kh


The introduction of the Swart Atomic Space Tone (AST) was a smashing success earning raves across the board. Everyone loved this 12" all-tube combo, with its great multidimensional tone, excellent breakup quality, and amazingly soulful/deep tube reverb and tremolo. Some where saying it achieved a rare benchmark in category, without peer.

Now all the tube glory of the Atomic Space Tone combo is available in a Limited Edition HEAD, housed in a hand-made, finger-jointed, pine cab, covered in tweed.
This is the same great AST 12AX7 pre and 6V6 output section, with high and low input, foot switch, standby, and tube reverb and tremolo to die for. Let's put it this way, we think this is the best reverb/tremolo out there.
Click on the pictures at right and below for full view. And see more highlights below....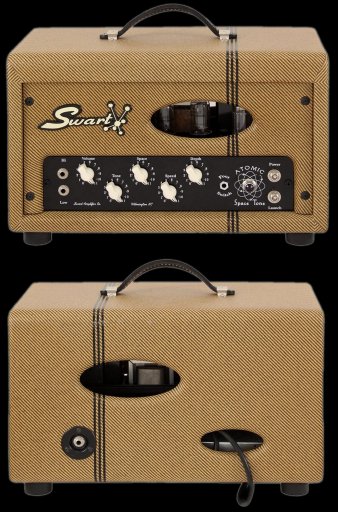 - Click above for full -




The AC is cleaned and rectified by the reliable JJ 5AR4, this a very robust tube providing excellent sonics due to the total lack of solid-state circuits in the rectification stage (SS rectification leads to a more hard/harsh tone and slams the tubes on power-up causing excess tube wear). A heavy duty, JJ 500V Surface mount capacitor is the mains filtering device.



Powered by Twin JJ 6v6's putting out 18-22 cathode biased Watts; the twin 6V6s seem to really put out an amazing mixture of soul~tone. We love this combo! (You can also sub 6L6s for a bit more headroom due to the extra beefy Heyboer Power Trans),



A 12AX7 does duty as the driver and bias regulated Tremolo. Ever heard tube tremolo? You will now. Simply put, if you're a tremolo fan, you won't go back.



Reverb is all tube. Tube Reverb is the only way to go and our implementation leaves the competition sounding two-dimensional.



The first preamp tube is another dedicated rocking 12AX7 to drive this beast to Mount St. Helens and back. Our whole driver/preamp circuit has been optimized from months of testing. The AST Tweed sings like no other.
Custom built, Heavy Duty, power and output transformers - HeyBoer USA - The New Leader



Carbon Comp Resistors for the BEST tone. Period.



Mallory, Sprague and JJ Caps - only the best, all considered for their appropriate roles



Finest silver tinned cloth & Teflon covered wire



Hand Wired, point to point



Standby Switch - amp warmed up|extends tube life



Dedicated foot switch as well - Switch pedal included



8 ohm output to your favorite Speaker cab



hand-made, finger-jointed pine, covered in tweed.



17 ½ X 9 ½ X 8 ¾ ~ 20lbs


The Limited Edition Atomic "AST" Tweed
Head is NOW SOLD OUT - See AST HEAD MK II


AST Head Mk I....................................$SOLD OUT