So much to put here... So you're itching to see the new model (actually two big changes) and a MOD that I think is a BIG one, as in BIG change. Stay tuned, Swart Fiends - kh

See Richard Harrah's Stereo AST setup below, and quite possibly the BEST TONE OPTION we have. Two ASTs can be orgasmic. Richard is yet another musician smitten with the AST, stating,
"I have to say I have nearly thirty different types of amps and the AST is head and shoulders above them all. It's not too brown and mushy like most deluxe amps I have played and the compression is very musical. The trem and reverb are without peer and and the best mojo about the little tweed wonder is I almost sound like the guitar player I wish I was, thank you very much."
The nut here is that Richard wrote the above BEFORE going AST STEREO. Now he's near vaklempt. I'm vaklempt looking at his music room. Richard, can I move in with you? I do dishes...sometimes - kh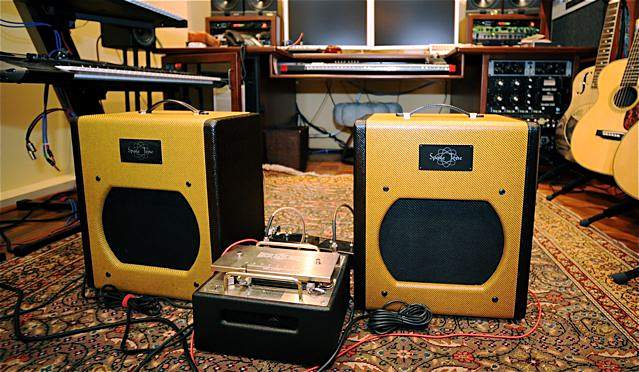 Michael's 2am Botch - Swart Jewelry
I wish these pictures were totally self-explanatory as I don't feel like living it again, even while typing. Basically, if you try drilling a Boost Pedal at 2am, with little sleep, no food, too much loud music, and eyes inside out, you get this... Swart BLinG. Don't ask. We sent one to EJ and he gave it to his wife for her birthday. I haven't heard from him since... - kh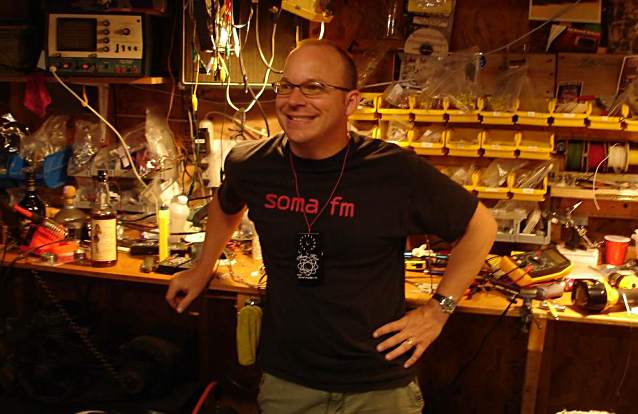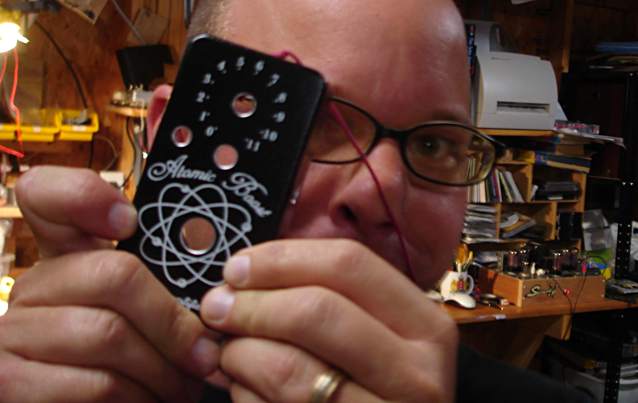 Meet Andreas Proske, oh so AST Happy
Andreas traveled from Germany and timed his AST order with his trip down the East Coast. What a super nice guy with an infectious smile and need for Good Tone. Of course, his wife and brother were left sitting in the car as he said, "I'll be right back." An hour later, and you can guess the scenario. Heh... The clincher to this one is Michael directing them to historic downtown Wilmington, forgetting they were commissioning a new Nuclear Sub with all the pomp and circumstance. Translation? IT was a madhouse and they left the area beaten with all loss of hope. Except ole Andreas was still smiling about that amp... And now he's loaded with Swart Tone Karma although still recovering from the horrors of THE SHOP before latest cleanup. I'm staring at it now, sitting here, and feeling dizzy. - kh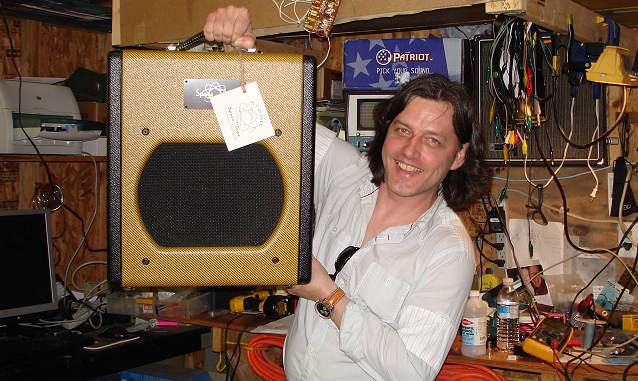 Mystery Amp...
A little teaser of a GREAT piece that some are saying is THE BEAST. OK, I call everything the Beast myself but this is REALLY The Beast. GregV is involved and he's MIA after receiving #1. Greg? Greg, where are you? Hello? - kh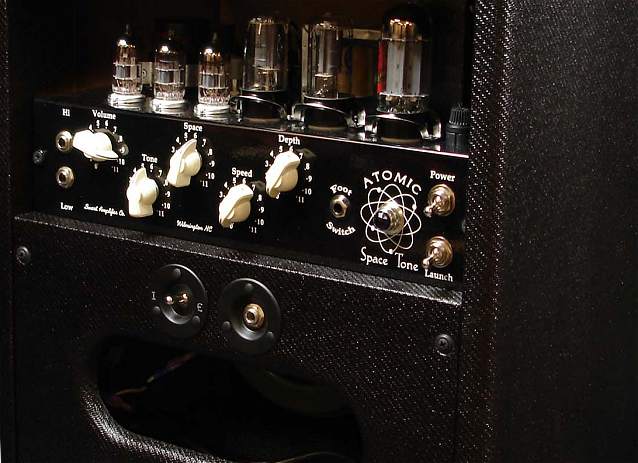 OAR with Swart SST-30
OAR is getting ready to head out on tour with an album coming in July. They did manage to send this photo of studio time with the SST-30. The SST played a role in their new album. Richard On loves Swart - kh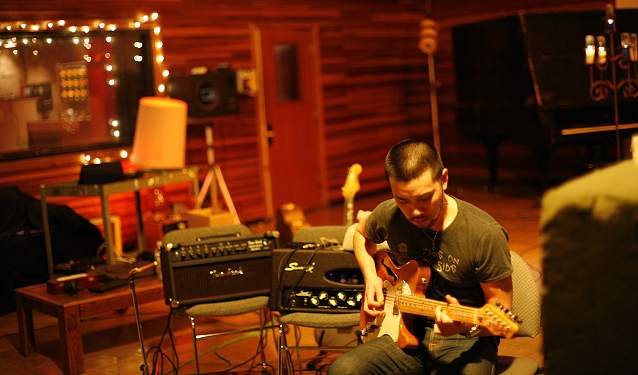 All you need to do is WRITE! Till next time with more secrets....
- kh ~ swartamps.com
---
©2008 swart amplifier co. wilmington nc 910.620.2512
info@swartamps.com
design & hosting by