Atomic Space Toned Leary takes on Timothy
Paul Leary's Semi-Legitimate Twins
"I've been playing electric guitar for forty-two years now, and the Atomic Space Tone is absolutely the finest amp I've ever played through. It will be a long time before I plug into anything else. I've been playing through these amps about 6 hours a day since I got them! There is no other amp in the world that I'd rather be playing through now.
You have delivered me the tone that I have been looking for all my life. I am totally blown away by the sound, the look, and by how small and light they are.
My hopes and expectations have been greatly exceeded. Your design is a masterpiece."
- Paul Leary

If anyone saw Paul Leary and the Butthole Surfers in the heyday of indie innocent, before THE BIG FALL, aka pre-NEVERMIND, they probably came away with a renewed understanding of sonic dementia, Über beauty noise, and wall of sideways sound akin to an ape having a seizure with a jackhammer in a corrugated tin pipe.
Paul Leary was that Ape...
but damn if he wasn't an intelligent ape, surely better than most others welding instruments with plugs, and undoubtedly one of the most innovative guitarists of this generation, influencing a host of names. Of course, we're not talking traditional, stodgy comparisons of axe welding grandeur.
Let's just say, Paul is not Eric Johnson crafting a lead via his tweaked Strat. One gets the feeling that Paul doesn't much like hanging within the Guitar Hero Box, nor the confines of a "song" as most know it. While Eric makes his Strat sound like a Strat, albeit a well-played one, Paul makes his Silvertone Dan Electro sound like the mating call of 2000 Chinese Geese being rotated in a bone hollow cement mixer.
Some dont get it - they don't SEE. But there are not many that can do this; it calls for the special powers of The Mentalist and an occasional dose of proper substances to get outside the framework. It also helps to have gear that can bring you every tone in the next solar system.
I first saw him play in the 80s and came away so impressed, I refused to ride with my cohorts back to Wrightsville Beach, NC. Instead, I wandered around Morgan Creek woods at 3am, turning the key guitar line of "Graveyard" over and over within my skull, until sitting atop Elephant Rock I decided to push myself into the creek to live with the Mud Cats. Paul will do that to you..
"Paul, do you remember when that flaming cymbal Gibby was welding at the Cat's Cradle gave me simulated male patterned baldness and something akin to a hair lip after it frisbee'd into the crowd?" - kh


"Michael, did I say you could give out my email to confused Gentry?" - Paul Leary


Paul called for a duo of custom covered , red & silver sparkle ASTs that he plays via a stereo pedal for full effect. Needless to say, Leary is often looking for the "difference" in gear.


"If it never went above "2", it would be an amazing amp. But when I cranked it all the way up, it just went into orbit.
It sounds like the Beatles on Volume 1 through 2. Like stoned Beatles on 3 through 5. Like The Undertones on 10. For the hell of it, I tried it all the way down to zero, and it still sounded great - like a nicely blown huge amp in the distance. Every volume and tone level combination is sweet. Low volume has chime and sustain, loud volume has growl without issues.
These amps have brought me so much joy in so little time. They sounded so good with no pedals, I was worried how it would react to them. Everything in my pedal board sounds better now, especially my old 808 Tube Screamer. Do you have a Hughes Kettner RotoSphere? You might want to try one out with two ASTs. Lately, I've been playing my ASTs with the volumes set on "1". There isn't anything I can't do at that setting. And have you ever tried the volume set to zero and the reverb turned all the way up? I'm telling you, its cool."

- Paul Leary

After reading that classic "volume at zero, reverb all the way up" line, I got curious and hit my own AST. Damn if ole Leary wasn't right! And it sounded just like a tone he might be after, too. I was banging my Reverend Jetstream like a gong when my poor wife came down, wondering if I had tapped into the box wine spigot....
Paul's produced a number of interesting projects, including the amazing Daniel Johnson, Meat Puppets, Sublime, and others. Leary now plays with Carny, still hitting his personal studio daily, loving his duo of Swart ASTs.

My next goal is to try to get Leary to send a few MP3s for us to get online here. Stay tuned to Swart News as I'm sure you'll be hearing more from Austin and beyond...
kh - Swart Online

The one and only Paul Leary with his twin ASTs, pedal board, & bevy of vintage classics lined up.
All photos on this page click to full versions ~ Photos by the captivating, Formica Iglesia.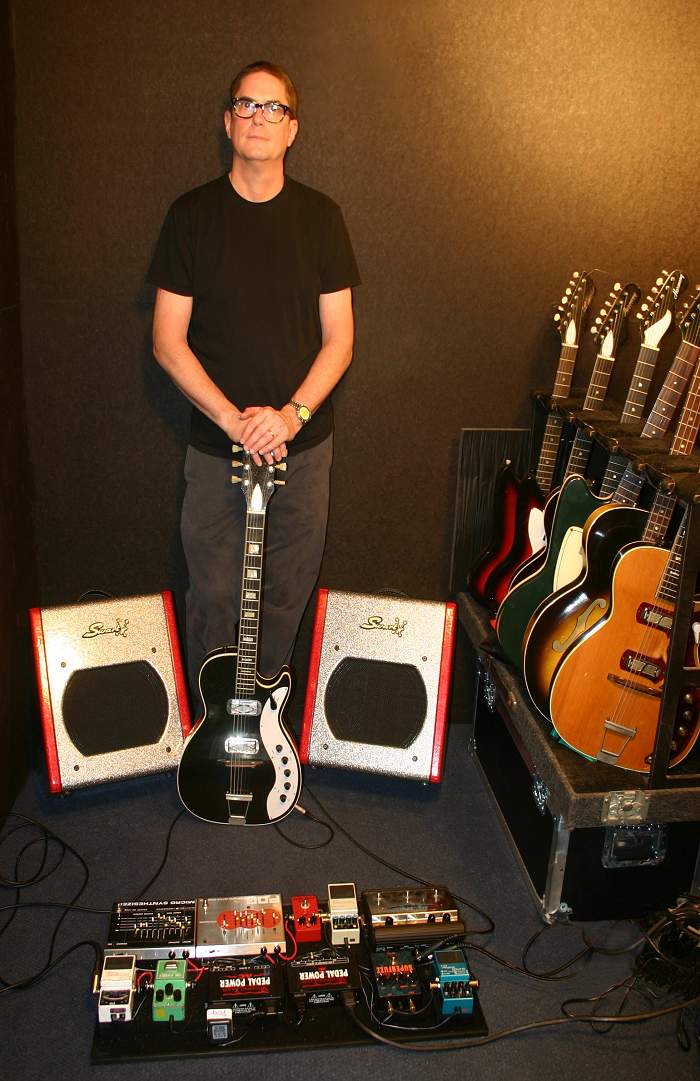 ---
©2007 swart amplifier co. wilmington nc 910.620.2512
info@swartamps.com
design & hosting by