I am actually so excited by this amp both aurally and visually. It's the second in our Tweed Series which takes our excellent finger jointed pine cabinet and covers it with top quality tweed, adding a lacquer to give it durability and that vintage, timeless look. We then add a rich, dark lacuer tweed on the sides which gives this amp a totally distinctive appearance. When we play out with this beast, everyone that "knows" comes up to inquire about the AST, this on the sound AND looks. Just like the original ST-6V6se, there is nothing out there like it.


The AC is cleaned and rectified by the reliable JJ 5AR4, this a very robust tube providing excellent sonics due to the total lack of solid-state circuits in the rectification stage (SS rectification leads to a more hard/harsh tone and slams the tubes on power-up causing excess tube wear). A heavy duty, JJ 500V Surface mount capacitor is the mains filtering device.



Powered by Twin EH 6v6's putting out 18-22 cathode biased Watts; the twin 6V6s seem to really put out an amazing mixture of soul~tone. We love this combo! (You can also sub 6L6s for a bit more headroom due to the extra beefy Heyboer Power Transformer,



A 12AX7 does duty as the driver and bias regulated Tremolo. Ever heard tube tremolo? You will now. Simply put, if you're a tremolo fan, you won't go back.



Reverb is all tube. Tube Reverb is the only way to go and our implementation leaves the competition sounding two-dimensional.



The first preamp tube is another dedicated rocking 12AX7 to drive this beast to Mount St. Helens and back. Our whole driver/preamp circuit has been optimized from months of testing. The AST sings like no other.
Custom built, Heavy Duty, power and output transformers - HeyBoer USA - The New Leader



Carbon Comp Resistors for the BEST tone. Period.



Mallory, Sprague and JJ Caps - only the best, all considered for their appropriate roles



Finest silver tinned cloth & Teflon covered wire



Hand Wired, point to point



Standby Switch - warm up | extends tube life High and low inputs for high and low output pickups



Dedicated 2-button foot switch for reverb & tremolo



12" Mojotone British Vintage Series BV-25m



And a hand-made, finger jointed pine cabinet covered in light with dark tweed tweed side panels. This cabinet is part of the magic of the Atomic Space Tone - We tested many different cabinet configurations and wood choices until we found the magic of the AST combo.



Dimensions: 18" T x 15 1/2 W x 9 1/2 D ~ 29lbs
| | |
| --- | --- |
| | |
| | |



Also, please take a look at our new Atomic Boost pedal -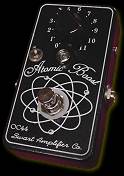 Atomic Boost is a natural with the AST!
- Click above for pedal details -

The combination of the Atomic Duo
has to be heard to be believed!



• All Tube circuit ~18-20w twin 6V6 High Class A Biased AB
• Can be powered by 6V6 or 6L6
•
Cathode "AUTO" Biased (no need to bias for tube rolling)
•
JJ/Tung-Sol 12AX7(2) - JJ 12DW7 - JJ 6V6 - JJ GZ34
• Tube Rectification ~ GZ-34 or NOS 5Y3 (See below)
• Sub NOS 5Y3 for earlier breakup/increased compression
• 100% Tube Reverb & Tremolo ~ Quality Spring Tank
• Hi/Lo Inputs for better PU Output matching
• Hand wired point to point ~ Made in USA
•
Standby Switch ~ Amp warmed up|extends tube life
• Carbon Comp Resistors for BEST TONE
• Mallory, Sprague, and JJ Caps selected for Application
• Finest silver tinned cloth & Teflon covered wire
• 8 Ohm High Quality Custom Output Transformer
• Dedicated 2 button foot switch included
• Rubber Feet for Vibration/Protection
• Solid, finger-jointed Cabinet ~ Lacquered Tweed
• Standard with 12" Mojo BV-25 ~ Excellent Vintage Tone!
• Can fit Celestion Alnico Blue/Gold/Cream
• FUSE: 1A Slow Blow 250v 3AG 1/4 x 1-1/4(30mm)
• Dimensions: 18" T x 15 1/2 W x 9 1/2 D ~ 29lbs
This might be my personal "if only one" Swart amp though nice not to have to make that hard decision. Such a special beast. ~ kh