Ordering & Shipping

We prefer you order from our list of excellent Swart Dealers
either with a dealer in your vicnity or your favorite go-to
option. Any Swart Amps dealer can order all our products.
For T-Shirts, pedals, tubes, bulbs, reverb tanks, handles,
covers, switches, cables, and other parts, see Swart Parts.

Click to open latest pricing pdf below.
---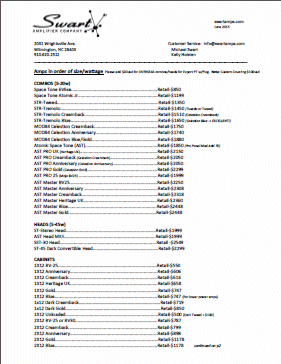 ---
Phone:
910.620.2512
Email:
info@swartamps.com
Swart Amplifier Co Warranty
---
©2003~2016 swart amplifier co. 2031 wrightsville ave wilmington nc 910.620.2512
info@swartamps.com