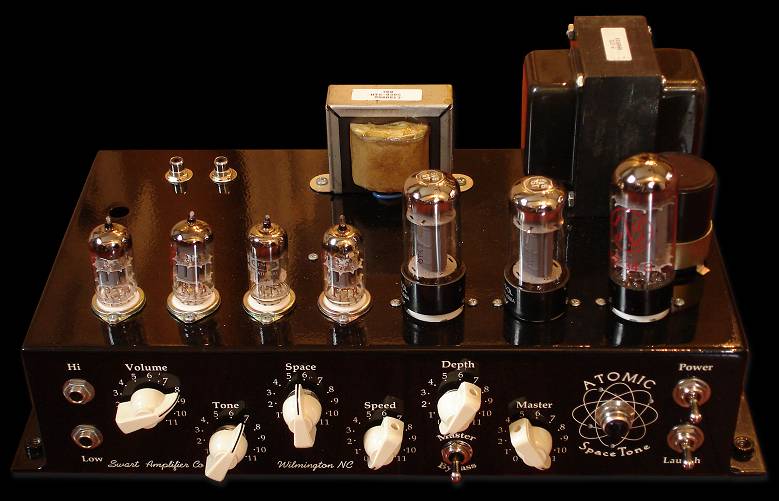 The heart of the matter - AST Head II Chassis with all tube circuitry - Click above for FULL view. See additional 4th 12AX7 (12AY7 for unity gain can be sub) dedicated to the Master Volume Circuit, totally bypassable for the purist. This unique Master Volume was developed to quell the potential leeching of TONE by the typical MV implementation. Swart would not marry a MV with the AST until a solution was found. We feel this is perhaps the best MV implementation out there.
~ Click above and below for full high resolution views ~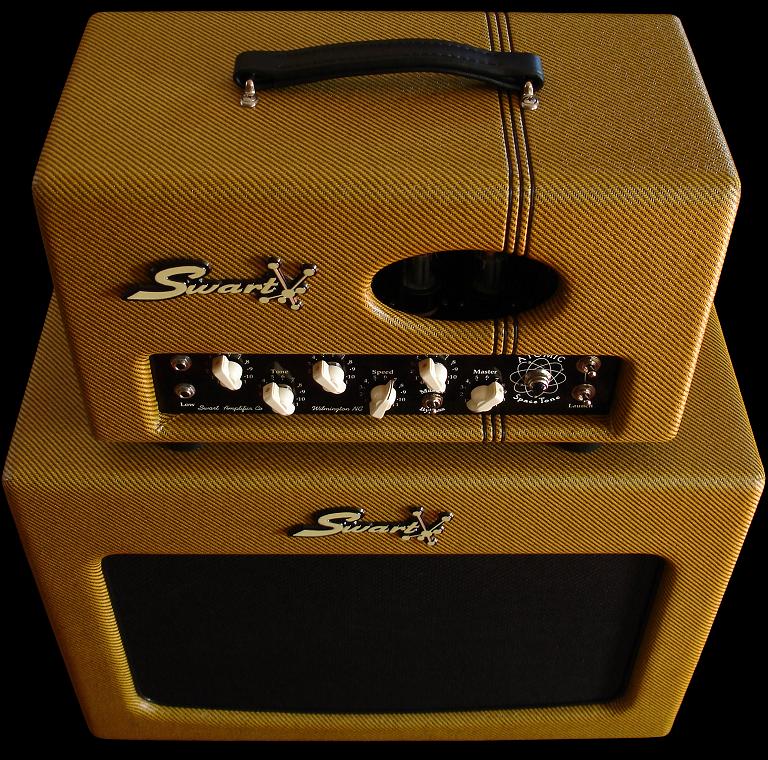 AST HEAD Mk II & Cabinet
Arguably one of the best combos ever made, the Atomic Space Tone returns in Head Form, now with Michael's fully bypassable Master Volume with its own dedicated tube stage • Runs 6V6 & 6L6
---
©2008-2013 swart amplifier co. 2031 wrightsville ave wilmington nc 910.620.2512
info@swartamps.com
design & hosting by

We feel this amplifier hits it out of the proverbial park just like the original AST. It's just a hair bit hotter than the original combo with some more angst when switching to MV circuit. A quick swap of the 12AX7 to a 12AY7 in the MV V4 slot WILL yield unity gain, however. And although it was a long wait, it's well worth the patience because you're going to be blown away all over again. And although there is already a line that's been forming for this beast, musicians can take solace that this is NOT going to be a limited run. We only make that mistake once. And one last point... this is a LIGHT beast at only 19lbs with the 1x12 cab weighing LESS than the AST.

AST Head MkII & Cabinet Specifications
• All Tube circuit ~18-20w twin 6V6 High Class A Biased AB
• Can be powered by 6V6 & 6L6 Family
• Tube stage Master Volume that is bypassable for Purists
• Cathode "AUTO" Biased (no need to bias)
• JJ 12AX7(3) - JJ 12DW7 - EH 6V6 - JJ GZ34
• Tube Rectification ~ GZ-34 or NOS 5Y3 (See below)
• Sub NOS 5Y3 for earlier breakup/increased compression
• 100% Tube Reverb & Tremolo ~ Quality Spring Tank
• Hi/Lo Inputs for better PU Output matching
• Hand wired point to point ~ Made in USA
• Standby Switch ~ Amp warmed up|extends tube life
• Carbon Comp Resistors for BEST TONE
• Mallory, Sprague and JJ Caps, selected for Application
• Finest silver tinned cloth & Teflon covered wire
• Twin Outputs to run two Cabinets
• 4 / 8 / 16 Ohm selectable ~ Rear Panel Switch
• Dedicated 2 button foot switch included
• Extra Large Rubber Feet for Vibration/Protection
• As all Swarts, optional Export Transformer/Plug ~ $30k
• Solid, finger-jointed Cabinet ~ Lacquered Tweed
• 1x12 cab standard with Mojo BV-25 ~ Options available
• Head Dimensions: 17 7/8W x 9D x 10H ~ 19lbs
• 1x12 Cab Dimensions: 24W x 11D x 16 7/8H ~ 26lbs
Some more highlights of the AST Head circuit...
Designed to be powered by Twin 6V6's putting out 18-20 cathode biased Watts; the twin 6V6s seem to really put out an amazing mixture of soul~tone. We love this combo! You can also sub the 6L6 family for more headroom due to the extra beefy Transformers. And unlike the original AST Head, the MkII has TWO outputs and can run 4/8/16 ohm cabinets/speakers.
The JJ 12AX7 does duty as the driver and bias regulated Tremolo. Ever heard tube tremolo? You will now. If you're a tremolo fan, you won't go back.
Reverb is all tube. Tube Reverb is the only way to go and our implementation leaves the competition sounding rather two-dimensional.
Simply put, it's one of the most tonally expressive, organic, soulful, rich, and dimensional amplifiers in production, now in Head form with a Master Volume that's a step above the rest!
Also, please take a look at our Atomic Boost pedal - The combination of the Atomic Duo has to be heard to be believed!



AST HEAD MK II SAMPLES
Ole Lucian stops by one eve...


Introductory Pricing
AST Head II............................................................$1999
AST 1x12 Cab........................................................$550
NEW 2x12 w/BLUES ~ This blew me away - kh
Price............................................................................$inquire

Introductory Head & 1x12 Cab Deal

AST Head II & 1x12 Cab..............................$2498
The introduction of the Swart Atomic Space Tone (AST) was a smashing success, earning raves across the board, whether in studios, clubs, or living rooms. Everyone loved this 12" all-tube combo, with its multi-dimensional tone, excellent break-up, and soulful tube reverb and tremolo. Many were claimng the AST achieved a rare benchmark in category without peer, some saying it might be the best amplifier they've ever played. Those are strong words considering the myriad of boutique and vintage offerings.

Soon after introduction, Michael took the AST and literally placed the combo circuit/chassis inside a head cab with nary a mod, this to appease musicians needing this format. The acclaimed "Limited Run" head sold out within 45 days and we've been getting emails and calls ever since.
The all new AST Head MkII is Michael's assault on perfecting the AST circuit for a head with 4/8/16ohm impedance selection, the ability to run the 6V6 & 6L6, along with the addition of our completely bypassable dedicated tube stage master volume, designed from the ground up to bring MV convenience without leeching the tone/soul from the amazing AST circuit. The all aluminum, star ground chassis is housed in a hand-made , finger-jointed, solid wood cab, covered in lacquered tweed (Now availabe in DARK lacquer for $100).
Click on the pictures at right and below for full views. And see more highlights below....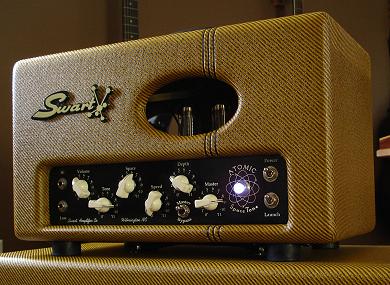 Click above for AST Head II ~ Tubes can be changed from the front
Sub 6V6 with 6L6 with NO BIAS HEADACHE.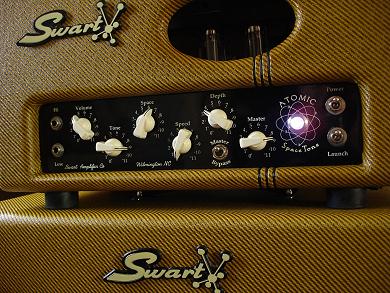 Click above for insane SUPER close-up at 1900px ~ HIGH BANDWIDTH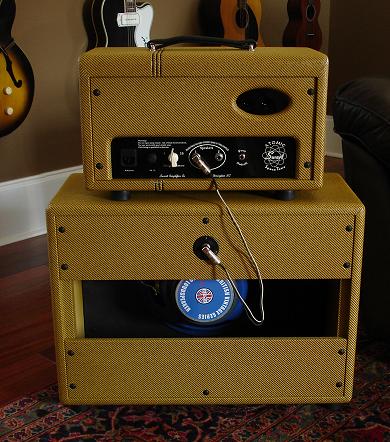 Click above to view AST Head II & Cab from back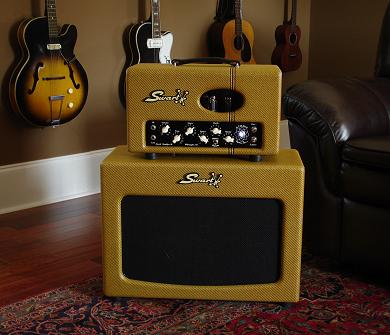 See 1500px AST Head II & Cab in Swart Music Room/Office

Full size photo below ~ See
AST Mk II Head & 1x12 in DARK TWEED