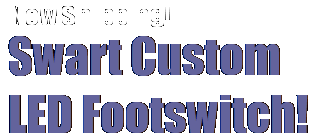 This has been requested so often, it's akin to Big Ben signaling lunch break in London. Alas, it's finally here and we made sure it was worth the wait.
Yes, finally a new custom Swart Designed LED Footswitch made for all our amps ever made with Swart Tube Reverb (SPACE BABY) and Tremolo, past or present, current or out of production! No more guessing whether it's off or on as now it's a simple glance down at the Blue LED to let you know status.


Designed & Built at Swart Shop


LED off/on Status for Reverb/Tremolo


Tremolo Speed Display via LED!


Powered or 9v Battery Option


Stereo Jack for any length
stereo (TRS) ¼ cable ~ Or
include our Swart 15ft TRS
RapcoHorizon Option


Made in Wilmington, NC


And for those Tremolo lovers, you'll now have speed indication with the Trem LED, bouncing to the pulse of your favorite tube tremolo. This will be a much anticipated upgrade and we have to say, after using this beast for the last month, it actually improves on the whole experience, making you feel more connected with your Swart Tone Machine.
Please purchase from one of our dealers helping to support brick and mortar stores.

If no one has in stock, you can purchase on our parts page with or without our own 15ft cable.

~ kh